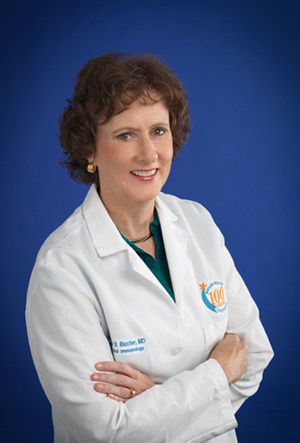 Barbara Stark Baxter MD is board-certified in internal medicine and allergy-immunology. "Dr Bobbie," as some call her, grew up on Long Island in New York, but says "I got here as soon as I could!" about her love for Texas and Dallas. She graduated cum laude from Smith College with a degree in music in three years and then attended Columbia University's College of Physicians and Surgeons. After receiving her MD degree, she moved to Dallas to start her internship and residency in Internal Medicine at Parkland and the VA Medical Center in the UT Southwestern program, followed by an additional three years in Allergy and Immunology as the first fellow of the current training program.  In 1983, while she was still in training, she founded a local medical mission called the Agape Clinic in the basement of Grace United Methodist Church. She was already an active member of Highland Park Methodist and singing in the choir, all of which she has continued since that time. Dr. Baxter has three grown children. During fellowship, Dr. Baxter participated in research into penicillin allergy and anaphylaxis, and she remains interested in all types of drug allergies. In 1985 and 1987, she helped two different allergists retire and combined their practices into one very active one in Preston Center, where she currently manages several endeavors and is one of the most respected allergists in the Metroplex. She delights in treating adults and children of all ages and is committed to serving a broad cross-section of the population economically as well.
Professional Missions
In addition to offering excellent personalized care to a variety of folks in the private sector, Dr. Baxter volunteers in multiple venues, which gives her a somewhat unique perspective on the sometimes rocky healthcare climate we are all currently navigating. She is passionate about staying involved in the formation of new allergists and accomplishes this by volunteering at the Parkland Asthma Clinic, where she works with young doctors. She was honored with an Outstanding Teacher Award in 2004-5. She also serves on the board of Los Barrios Unidos Community Clinic (http://www.losbarriosunidos.org), Dallas's premiere federal community clinic, and in fact, she has been associated with it nearly continuously since 1983, taking a small break when her children were babies.Of course, Dr. Baxter's main mission continues to be the Agape Clinic (http://www.theagapeclinic.org) , which was one of the first free clinics in Dallas and is still one of its largest.
Currently, Agape operates 7 days a week and has a paid staff to support its many volunteers. In 2016, Agape partnered with Texas A&M College of Dentistry to open a brand new, ten thousand square foot dental teaching clinic. With over 15,000 visits completed each year, the Agape offers sub specialty care in ophthalmology, dermatology, women's health, orthopedics, allergy and counseling, in addition to being a medical home for many still-uninsured patients.
Dr. Baxter has been honored by several organizations for her work at Agape:
Freedoms Foundation at Valley Forge George Washington Medal for Individual Achievement, 1988.
JC Penney Golden Rule Award, 1993.
Dallas County Medical Society Alliance Aesculapius Award for Community Service, 2000 (4th and youngest-ever recipient).
East Dallas Weed & Seed 2004 Community Heart and Soul Award
Professional Affiliations
It's important to Dr. Baxter to stay abreast of the advances and changing practices within her field. In order to do that, she affiliates with the top medical organizations relevant to her specialty.
Fellow of the American College of Physicians
Fellow of the American Academy of Allergy, Asthma and Immunology
Fellow of the American College of Allergy, Asthma and Immunology
Charter Member Texas Allergy, Asthma and Immunology Society
Member American Medical Association
Member Texas Medical Association
Member Dallas County Medical Society
In practice, Dr. Baxter is a member of Genesis Physicians Group. She is the Chairman of the Clinical Integration Committee for Allergy-Immunology and a member of the Genesis Accountable Physicians Network. In the Network, she is a member of the Quality Improvement Committee.
See What Patients are Saying About Dr. Baxter
New patients can visit our review page to see what people are saying about Dr. Baxter's services.
Need An Appointment?
If you would like to schedule a consultation with Dr. Barbara Baxter, contact our office today by calling today or by filling out the appointment form on our website. Dr. Baxter is an experienced asthma and allergy doctor that serves patients throughout the Dallas, Texas area.